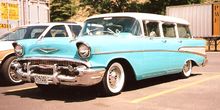 &nbsp
Template:Unreferenced stub The Chevrolet Townsman was a full-size station wagon produced by Chevrolet from 1953 to 1957 and again from 1969 to 1972.
1953-1957
Edit
The Townsman name was first used in 1953 on the 210 series four-door station wagon. For 1954, the name was shifted to the luxury Bel Air series station wagon, which featured Di-Noc woodgrain paneling. In both years, all Townsmans were eight-passenger models. In 1955 and 1956, the Townsman was once again a 210, but in 1957 it was available as both a 210 and a Bel Air. All 1955-1957 Townsmans were six-passenger models. A 235.5-cid inline six-cylinder engine was standard power in all five years, with V8s available beginning in 1955. Template:Clear
1969-1972
Edit
During the second run, the Townsman was based on the rear-wheel drive GM B platform. It came in both six- and nine-passenger versions and only V8s were available, ranging from 327 to 427 cubic inches in 1969, and 350 to 454 cubic inches from 1970 forward. The sedan equivalent in this period was the Bel Air. It was considered a little more deluxe than the Chevrolet Brookwood, but not quite as nice as the Chevrolet Kingswood and Kingswood Estate, which were Impala- and Caprice-level cars, respectively. In 1971, a power rear window was made standard as well as a tailgate that disappeared beneath the floor, optionally also under electric power. That year wheelbase also increased from 119" to 125", the longest of any Chevrolet regular passenger car ever produced. Midway through the 1971 model year, Turbo HydraMatic transmission was made standard equipment on all full-sized station wagons, including Townsmans. For 1973, Chevrolet eliminated the Townsman and upper-level Kingswood/Kingswood Estate designations for its full-sized station wagons. The Bel Air nameplate continued to be applied to all full-sized wagons through 1975 in the United States, and 1981 in Canada. Template:Early Chevrolet carsTemplate:Classicpow-auto-stub de:Chevrolet Townsman
Community content is available under
CC-BY-SA
unless otherwise noted.